Is it necessary for my business to have a Google Business Profile Listing?
If you're a business with a physical location or you serve customers in a particular geographical area, the answer is a resounding yes! The good news is that setting up and using a business profile listing is entirely free.
A well-optimised Google Business profile (GBP), formally Google My Business (GMB), can make a huge difference in how your business appears in local search results. Your business profile can provide valuable information to potential customers, such as your location, business operating hours, website links, customer reviews, photos, and much more.
It's a powerful tool that allows you to effectively manage how your business appears on Google, making it an indispensable addition to your local SEO toolkit. So, if you want your business to thrive locally, don't hesitate to create your Google Business Profile listing today.
The screenshots shown here are from my mobile phone. They show real-world examples of using Google to find products near my location. For this experiment, I was sitting on a bench seat in Brisbane's Queen Street Mall in the city centre on a beautiful morning. I was looking for Akubra hats and John Lennon shirts near my location.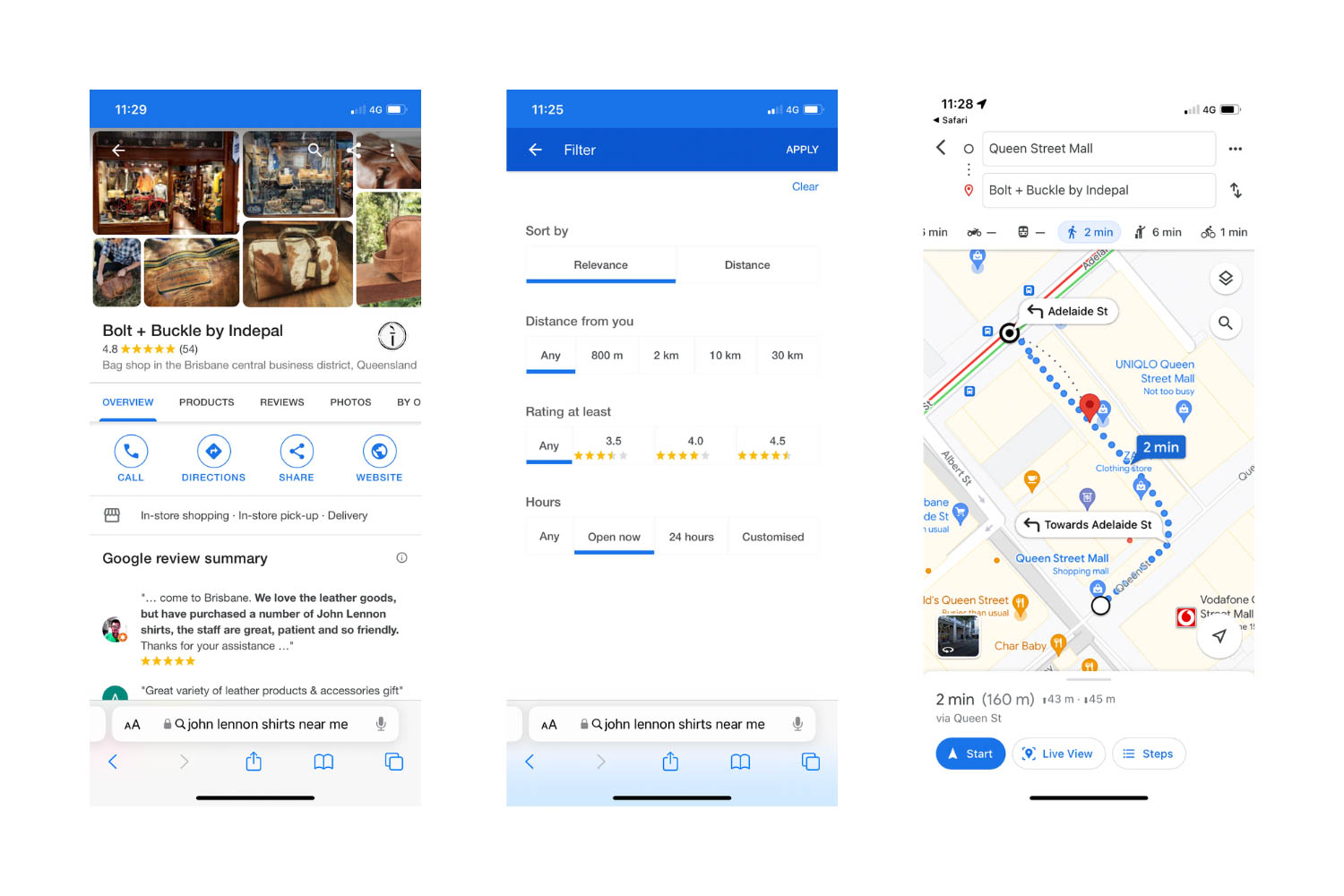 The Critical Role of Customer Satisfaction in Unlocking Success
I filtered for distance; I chose 800 m and a review rating score of at least 4 stars. Which appears to be a typical way to research a business. This is backed up by a 2023 local consumer review survey conducted by Brightlocal. 
Which found 98% of people at least "occasionally" read online reviews when researching local businesses. In contrast, their research showed that 76% of people "always" or "regularly" read online reviews. No surprises there! 
As part of your local SEO strategy, encourage your customers to leave reviews. In addition, customer reviews are a key element of social proof and a meaningful way to build trust and credibility.
I chose 'Bot + Buckle by Indepal' which is only a 2-minute (160 m) walk. Having your pin location accurate on maps is super important. Finding the store location in the Brisbane Arcade was simple. Jill, a true rockstar salesperson, showed off a selection of graphic-printed John Lennon long-sleeved shirts.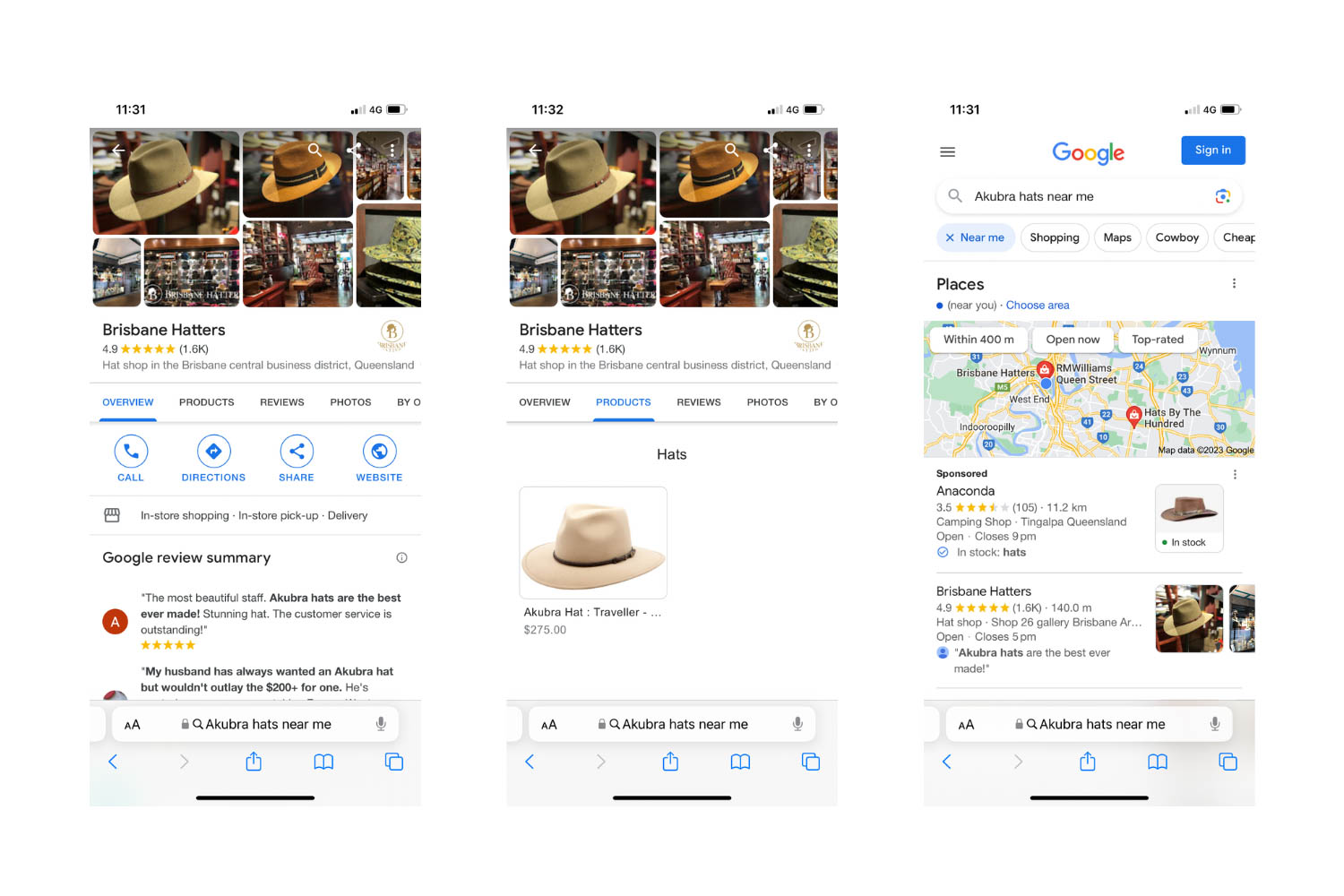 Next on my shopping list is an Akubra hat. Brisbane Hatters, with 1.6K reviews and also located in the Brisbane Arcade, was an easy choice. Once in the store, Maddie shows me a collection of stunning Akubra hats. Spoilt for choice!
Make sure your business has an up-to-date and optimised Google Business Profile. It's one of the best free ways to appear in Google search results.
Ready to boost your business with a Google Business Profile?
Contact us now to get started!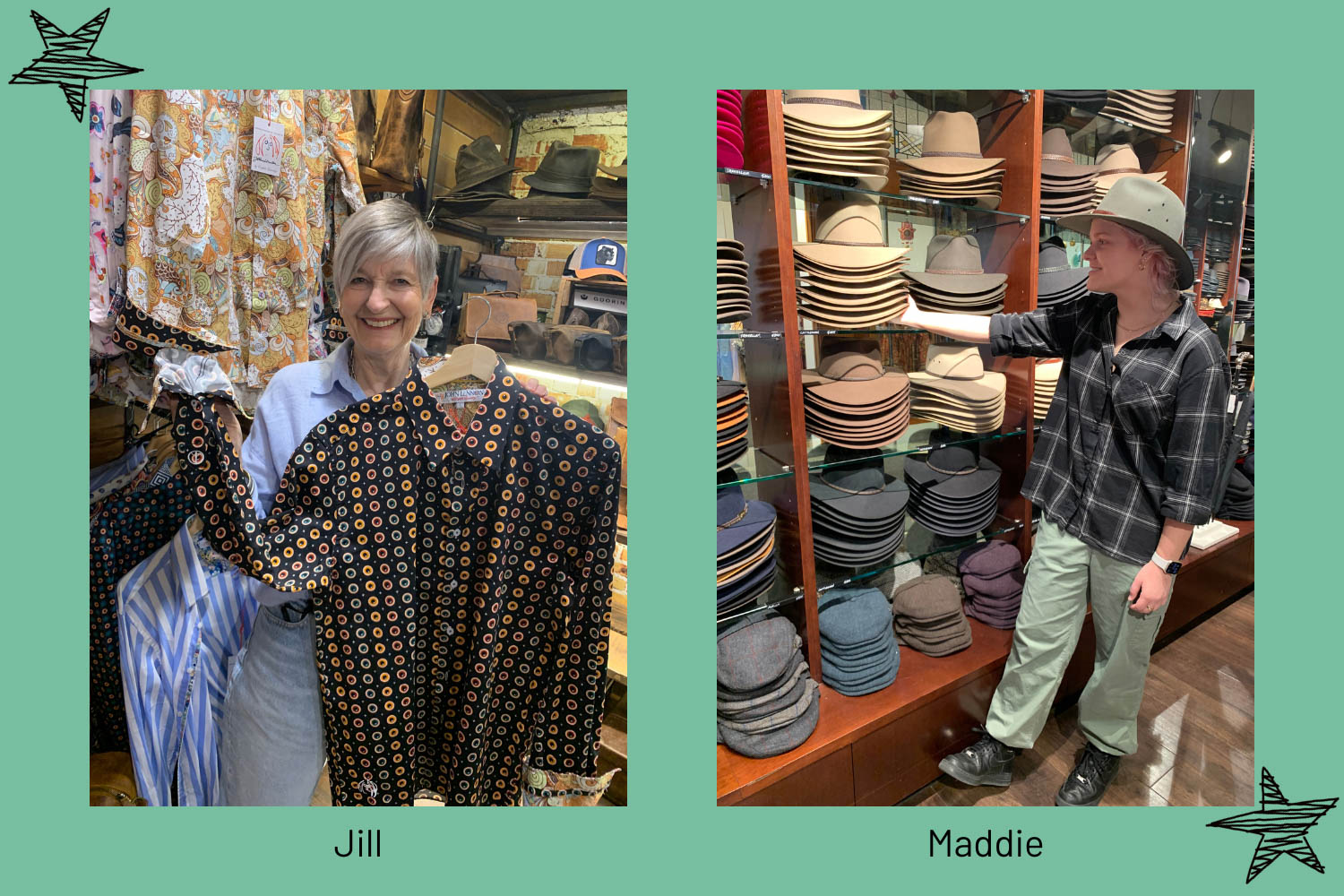 Citations:
All images/screen captures in this blog post article made by the author, as of September 2023.
Local Consumer Review Survey 2023 – Sammy Paget webpage
Shop handcrafted leather bags for men  – Indepal Leather webpage
Brisbane Hatters Sell Mens Hats, Ladies Hats and Accessories webpage