How-to practical SEO site audit for your website + a FREE editable template
This how-to practical, tactical blog article walks you through how to perform a search engine optimisation (SEO) site audit for your business. The audit's designed to be straightforward for a business owner with foundational digital skills to understand and follow the instructions. Also, to help you conduct this audit on your website, all of the SEO tools recommended in this article are available online free of charge.
To start with here are some yes-no questions to ask yourself about your website's current performance:
Is your website performing as well as it should be?

Do you want to find common problems on your website, and take action to fix them before they become issues for your users?

Is your site showing up in search engine like Google?
Chances are high that your answers to the questions above are yes!
This post outlines some common technical SEO problems that we've encountered executing site audits for small business customers over the past several years.
The SEO site audit outlined in this article is not a comprehensive full technical SEO audit. Rather, a basic audit that is designed to empower you as a business owner with regard to understanding the current state of your website health. 
Here's a list of 8 important elements covered in this SEO site audit how-to guide:
Site redirects

Robots.txt

Index

SSL certificate

Broken links

Site speed

Metadata; and

an Eyeball audit.

Technical
A good starting point for the SEO site audit process is to examine the basic health of your website. Here's what to check for and how.
URL redirects
What is a redirect? Redirection is the process of forwarding one URL to a different URL.
The most commonly used redirects are:
301 – moved permanently, and 

302 – found, or changed temporarily.
Google recommends removing or keeping redirects to a minimum, as redirects can cause search engine indexing issues, and can also lead to some minor loading delays.
SEO Site Checkup tool makes checking your website's URL redirects easy.  Simply enter your website URL in the 'Check your URL' field. Alternatively, the Moz chrome browser extension also works well to test for redirects.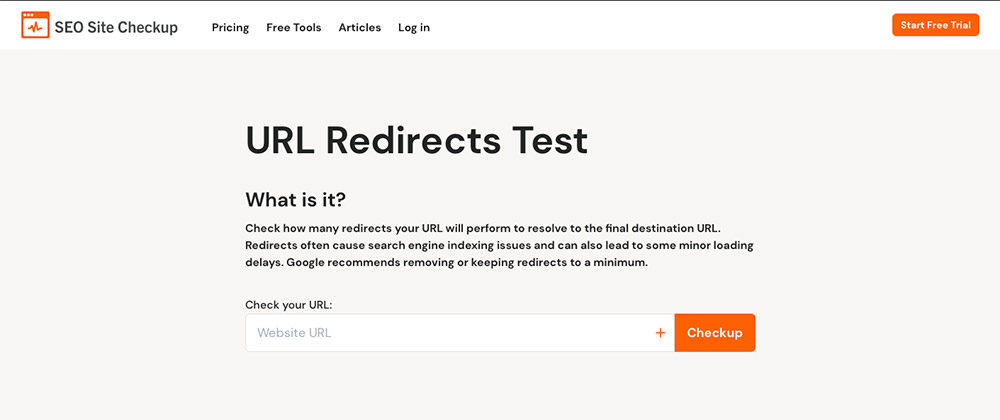 Robots.txt
What is a robots.txt file? The file is used to instruct search engine robots on how to crawl pages on your website. Not sure if you have a robots.txt file on your site? Simply type in your root domain, then add /robots.txt to the end of the URL.
Like this: www.example.com/robots.txt. 
If no .txt page appears, you do not currently have a (live) robots.txt page.
Alternatively, you can submit a URL to the robots.txt Tester tool. The tool operates as a Googlebot to check your robots.txt file and verifies that your URL has been blocked properly.
Index
What is Google indexing? An index is another name for the database used by a search engine. Indexes contain the information on all the websites that Google (or any other search engine) was able to find. If your website is not in a search engine's index, users will not be able to find it.
Are you curious as to how many pages with your domain name have already been indexed by Google? There's an easy way to check this. Simply go to google.com and type in – site:yourwebsite.com
SSL certificate
Does your website have a SSL certificate? SSL stands for 'Secure Sockets Layer" is the standard technology that ensures all the data that passes between a web server and a browser – passwords, credit card information, and other personal data – stays private and ensures protection against hackers. Furthermore, an SSL will give confidence to your visitors that your site is authentic and trustworthy.
If your website has a SSL certificate it will display like this in your browser https://www.example.com
While the primary purpose of SSL is securing information between the visitor and your website, there are benefits for SEO as well. SSL is part of Google's search ranking algorithm. In 2014 Google announced HTTPS as a ranking signal. Albeit a very lightweight one.
85% of online shoppers avoid unsecured websites. – GlobalSign blog
Broken links
What are broken links? A broken link is a web page that can't be found or accessed by a user. Web servers will often return an error message such as 404 – Page Not Found. User experience is an important factor that affects SEO. So it's best to avoid having pages on your website that are broken.
How to check for broken links on your website? 
Link Checker a free Chrome extension backlink checker is one option to check your site's links. It's super simple to use, once installed it allows you to verify all links on a page. It will find broken, unverified no-follow, follow, internal, and external links.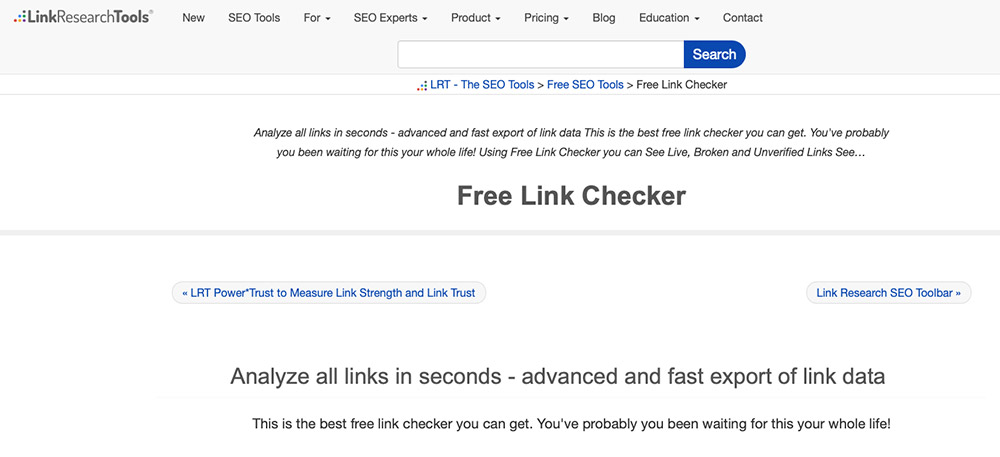 Website speed
The speed that your website loads is becoming more and more important. If you have no web developer technical skills or experience you may struggle to improve your site speed.
Software options
Google PageSpeed Insights – is a website speed test tool that grades your website on a scale of 1 – 100. The higher the number the better optimised your site is. Anything above an 85 indicates that your website is performing well. PageSpeed produces reports for both the desktop and mobile versions of your website.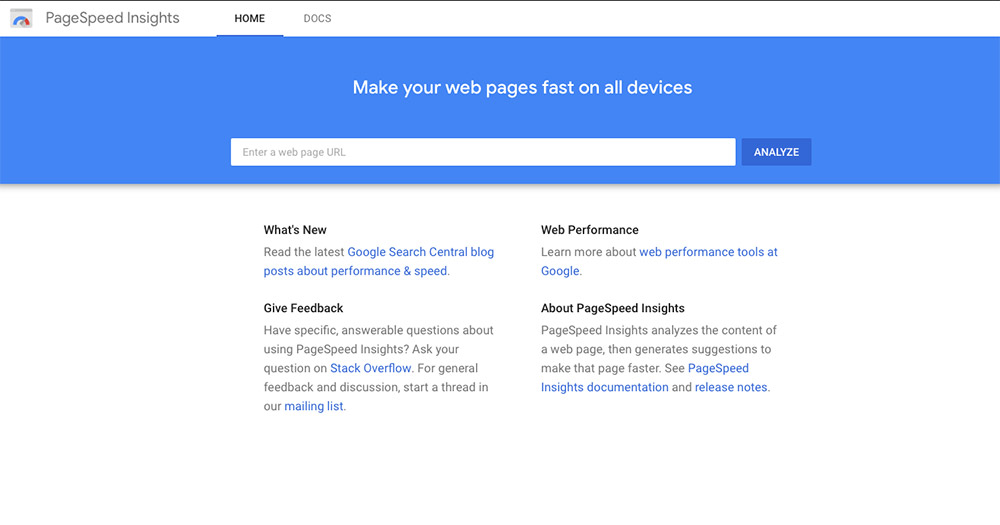 Lighthouse – an open-source automated tool for improving the quality of web pages. Is an excellent free resource used to improve the quality of your web pages. It provides an audit report on performance, accessibility, SEO, and more. Linked here is an overview of the tool, and how to perform an audit.
To ensure accurate results when using the Lighthouse Chrome extension to audit your site, you'll need to run it in Incognito mode. Why is that so? Your results may be skewed by the other 'active' extensions you have open in your browser.
To go Incognito on Google Chrome using a Mac choose File > New incognito Window. You've incognito when your screen message says 'You've gone incognito'
GTmetrix – is a popular website speed test tool. The basic version is completely free. With the free version, you can choose several different locations to test your URL,  and select a browser such as Chrome, or Firefox. The speed test tool grades your website on a scale of 1 – 100. The higher the number the better optimised your website is. Anything above an 85 indicates that your site is performing well.

Metadata
Why is metadata important? Metadata contains descriptions of your site page's content. This metadata is often displayed in search engine result pages by search engines. Take your time and craft accurate meta descriptions as the details could influence whether or not a user decides to visit your site.
In the example below. 
The blue text directly beneath the business url is the Title tag

Directly below the title is the Meta description

In this example, site links appear underneath the rating stars

For this element of your SEO site audit, I recommend you can use Screaming Frog which is a free super high-quality website crawler that covers this whole Metadata tab in the audit template provided.
This tool is straightforward to use. If you need some guidance there's plenty of tutorial guides for the novice, beginner level through to advanced users.
Eyeball  SEO site audit
Finally, an eyeball edit, which is exactly what it's called – running your eyes over your site. We've provided some prompts to guide you. However, you'd be surprised how much you'll find in this exercise. Plus, I've also found it useful to have others in the team run through the site. Generally, another set of eyeballs will bring a different perspective and notice something you may have missed. 
Remember this exercise needs to be performed on both desktop and mobile. As an example, here's a couple of little things that were identified when Momentum Online Australia's website first launched. Issues that tools don't reveal – but humans do. 
An internal link in the footer was going to the incorrect landing page and in mobile some text spacing issues between the text, and the logo. Small but not small enough to let slide!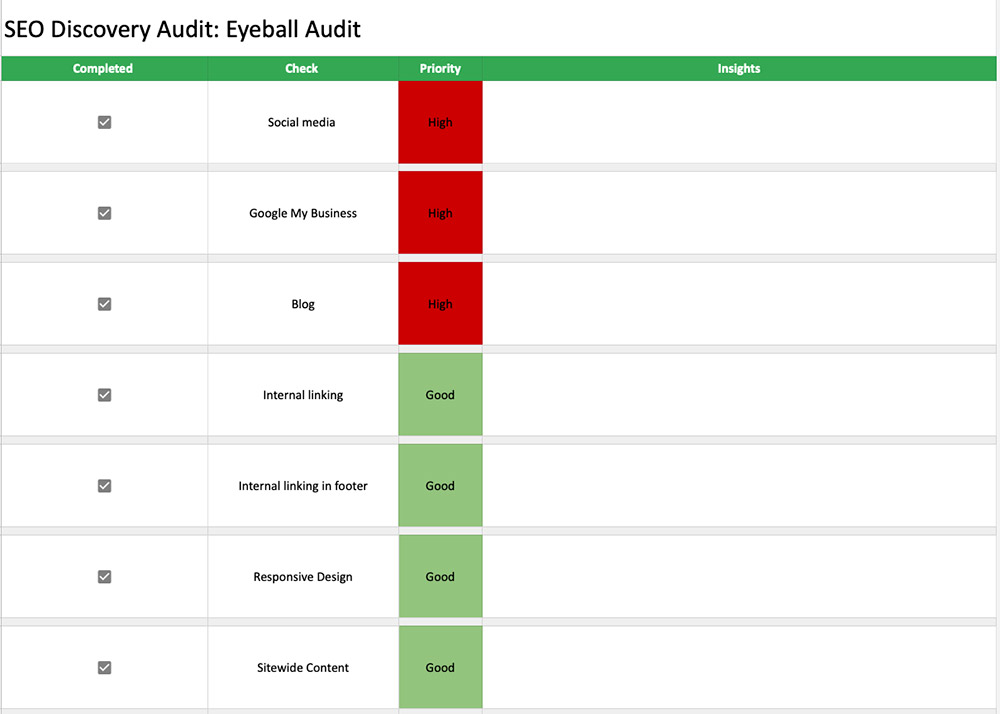 Regularly perform an SEO audit of your website
It's good practice to regularly perform an SEO audit of your website every six months to determine your website's health and performance. More frequently if your site is adding new pages, etc…  
"On a broad scale, I see SEO becoming a normalised marketing tactic, the same way TV, radio, and print are traditionally thought of as marketing tactics."
– Duane Forrester, VP of Industry Insights with Yext
The goal of this how-to practical guide is to give you the tools needed to perform a basic audit of your website. 
In addition, do download a copy of the complimentary SEO site audit template referenced throughout this article. It was developed as a tool to record your audit findings. It's a Google Sheet, so copy it and make it your own. Furthermore, it's a useful resource that you can share with team members, and a developer should you need some more technical assistance.
Citations: All images / screen captures in this blog post article made by the author, as of August 2021.