Can I change my current Google Business Profile to another country?
Unfortunately, you cannot change your business location from one country to another. You must update your Google Business Profile [GBP] as permanently closed. And start a new business profile in your new country. 
How do I mark my business as permanently closed?
Sign into your Google Account associated with your business. On Google Search type in your business name. Alternatively, you can use Google maps. In the Google Maps app, at the bottom right, tap the Business icon.
How to Edit Services on Your Business Profile:
Select Edit profile Business information. 
Near the top, select the Hours tab.
Next to the "Hours" Tab on the pencil icon.

Opening hours gives you two options to choose from.

Temporarily closed. 

Shows that your business will open again in the future.

Permanently closed.

Select Permanently closed. 

Shows that your business no longer exists.

Scroll and select the Save button option
Customers will see a red "Permanently Closed" banner on your listing after this step is completed.
Your Business Profile may still appear on Search and Maps for users who search for it. But it will clearly show that your business is closed, which keeps your customers up-to-date.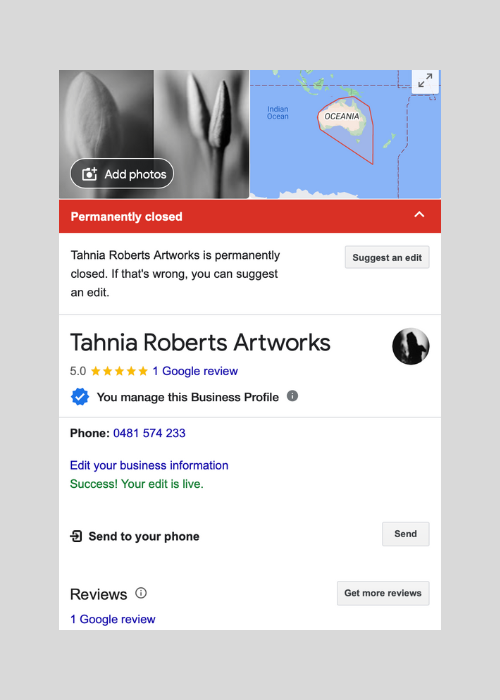 You are now able to create a fresh Google Business Profile using your updated business address.
Don't miss out on the potential of your GBP. Contact us now, and we'll help you manage and maximise your online visibility.
Citations:
All images/screen captures in this blog post article were created by the author, as of November 2023
Google Business Profile Tahnia Roberts Artworks belonged to the author before it was permanently closed.